Adult Diapers Prospect is Good? 
As the global aging becomes more and more serious, it is reported that adult diaper, disposable underwear, and the absorbent pad has doubled in size over the past 10 years in global, and has increased 9% last year to reach $ 9 billion. This may be a huge opportunity for manufacturers.
People are changing attitudes and gradually accept the use of diapers. Look at supermarkets, baby diapers whether near adult diapers, menstrual pads, incontinence underpads.
We all know incontinence products are so important for people who bladder-leak or disabled. They could avoid some embarrassment in public. On the other hand, it could be used on special time, for example during Novel Coronavirus Pneumonia, doctors & nurses use it to avoid urine leaks because of protective clothing lackness.
Medicare® diaper is our own incontinence brand, which has export more countries such as Venezuela, Kenya, Brazil and receives 5 stars-reviews. We couldn't say it's the best choice for adults but we can guarantee our diaper materials are premium.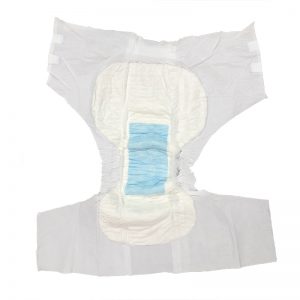 It, our hot sale adult diapers, cost-effective & good absorption. Soft cotton top-sheet with blue ADL, concentrate the urine and accelerate absorb. The 3-line yellow wetness indicator can change color to remind people.
If you are buyer and want to know diaper details, please click our website "Contact Us".