Medical bed pads are essential disposable incontinence products for bedridden patients. Generally, use for urine isolation. The hospital regular size is 60*90cm, but it sometimes needs larger sizes. Best medical bed pads not only convenient for patients but also save time not moving them.
一、What medical bed pads are best?
Choosing medical bed pads need to notice those:
1. Absorption rate
Absorption rate refers not only to the rate of absorption but also to the ability to reverse osmosis. If the absorption rate is high, but it is easy to reverse osmosis, it is easy to cause allergies for the skin surface that directly touching the medical pads.
2. Medical bed pads surface material
Surface material closely touching skin, if not enough soft will harm patients' skin.
3. Breathable ability
The breathability of the medical pad is through the molecular pores of the base film, and the non-breathable or poorly ventilated pad will make the patient feel stuffy and damage the skin.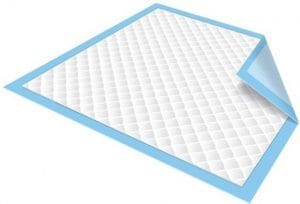 二、Where to choose the best medical bed pads?
From Rockbrook. As a 23 years hygiene products production manufacturer, we can produce good quality medical pads for incontinence care, maternity care, baby care, hospital use and own our incontinence brands-Medicare. Our medical bed pads made from imported raw material non-woven, SAP, Fluff Pulp, surface embosses design make urine absorbed easily. This product has won 5 stars praise from many buyers.