Breathable Adult Pull Up diapers Offering Up to 6 Hours of Protection
I remember an elderly couple have talk with me about their awkard story about incontinence.
They met each other from their youth, fall in love and get married. It's the 60th wedding anniversary in last year, and plan to invite their friends to party. Before the party, they need to prepare clothes. They went to supermarket, and her husband carry a new suit and went to the fitting room, but he ran out of the room after 3 miniutes, and his expression is flustered. She is very confused, don't know what's wrong? Then she saw her husband running around the mall, and finally entered the toilet.
After that, her husband said that day he enter the fitting room and suddenly feel urine urgency, and have a leak. Since then, he have a incontinence.
Do you or someone you love find yourself worry about having an accident in public and needing to leave quickly?
Maybe you know when get older, pelvic muscles atrophy and may not completely empty the bladder when urinate. So may need to go more often. Mobility issues can make it hard to get to the bathroom in time.
When using adult pull up diapers, it's important individuals find a product that offers the right amount of protection and is comfortable – especially when individuals are out for long periods of time.
Breathable Medicare pull up diapers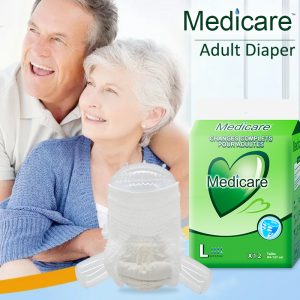 1. Non-woven top sheet, composite breathable bottom film, make you feel very comfortable;
2. 3D Leak Prevention Channel, effectively prevent side leakage;
3. Wetness indicator to remind change diaper;
4. 5 sizes: S/M/L/XL/XXL, more than 3000ml absorption;
5. Like underwear and wear easily, not limit your body;
Medicare incontinence products offer a variety of sizes, styles and absorbencies not found in most stores. Medicare pull ups are a great option for those looking for a daytime brief with great leakage protection. With up to 6 hours of capacity, Medicare can help in containing more moderate urinary incontinence and bowel leakage.
Most people managing incontinence don't want to be in the same situation as my friend. They want to go out in public and not have to worry about leaks. Medicare pull ups probably would have been a great option because they would have offered enough protection throughout his shopping trip and prevented unneeded stress.